Handcrafted Log Homes offer rustic style and raw beauty, a connection with the past as you build for the future. Our handcrafted log construction creates impressive homes that are rich in character, warm and inviting. Each will last hundreds of years.  A log home is more than just a log house, it's a reward for your hard work–a place where your family will gather for generations. Your log home makes a statement about how you value fine craftsmanship and enduring traditions.
Are you planning a log home in the United States? Important information for US clients
Classic Large Log Full Scribe: Each North American Log Crafter log home is handcrafted from 15" mid-span diameter hand peeled full length Douglas Fir or Western Red Cedar logs using the Scandinavian full scribe method to guarantee a long-lasting, tight fit. The contour of each log is traced onto the log below and carved to fit exactly, creating the superb connections that marks a premium, energy efficient log home. Both Douglas Fir and Western Red Cedar are popular choices although Douglas Fir is preferred for its durability and great strength under snow load, and the pricier Cedar is required in some places like Europe.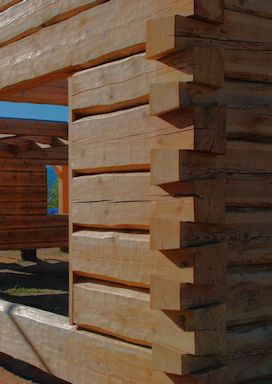 Dovetail Corner Full-Scribe: Popular now for its heritage home charm, another full log technique features flat interior and exterior surfaces and attractive dovetail corners. The top and bottom curve of the logs are hand-scribed to fit using the technique described above while the other two sides are milled on site to produce a "square" log look. A hand-hewn finish complements this style. Reminiscent of many pioneer homes, but crafted from the large scale logs preferred today and insulated with with expandable foam gasketing, this style is still often "chinked" in keeping with its old time personality. It's a great alternative to the classic round-log look that appeals to a wide range of tastes and offers a new version of one of the oldest log home styles.
Handcrafted Log Joinery Details: Log trusses and roof support beams are unique to each home and fabricated with meticulous craftsmanship, combining structural support and natural appeal.  Custom log staircases and railings are the perfect finishing touches for your log home or cabin.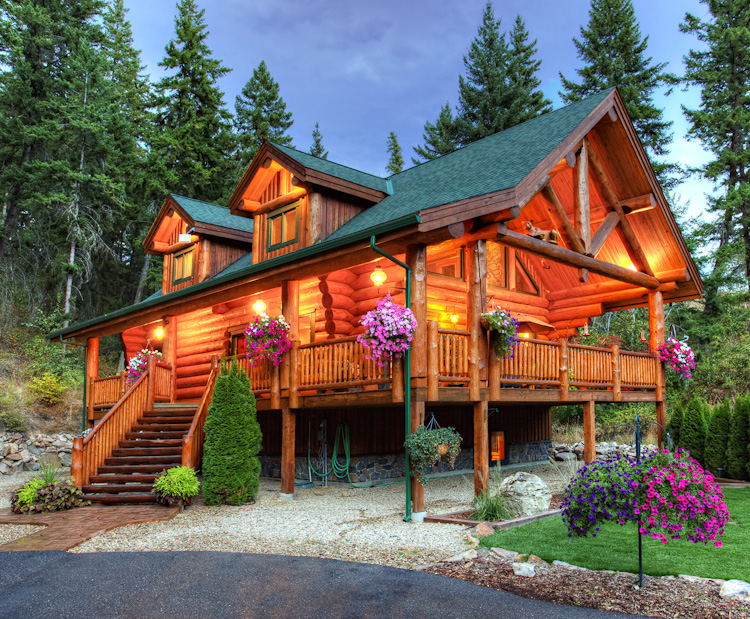 We are team players. As custom log home professionals we are the most skilled and experienced in our area of expertise: log craftsmanship and we believe that you deserve to have the best qualified team working for you every step of the way.
Your custom log home plans will be drawn by a draftsman who specializes in log homes. When the log work is completed, shipped to you and professionally reassembled by our crew on your building site, we work with your local general contractor who will oversee the completion of the project. With skilled experts in charge of every aspect of construction you can be confident that you'll have the best log home possible.
What is included in the price of the "Log Package"?
~Unlimited free consultation. We deal with only a small number of clients at a time, allowing us to give your questions our undivided attention. We are the quality specialists and offer personalized boutique level service as well as a premium quality homes in any size. If you require plan modifications or a custom home plan we will refer you to a designer who will listen closely and draw your dream home exactly the way you want it.
~Meticulous log selection specifically for your home. Each log is personally inspected and selected for you based on its size, grain and quality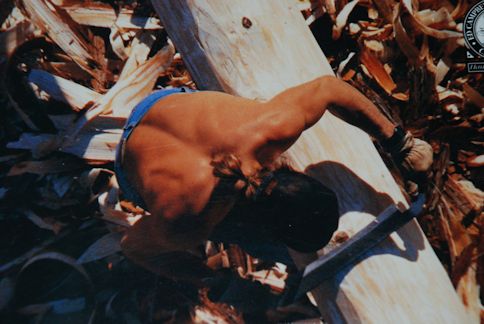 ~Hand-peeled large scale logs. The physically demanding process of hand-peeling a log retains its natural character
~Handcrafted full scribe log construction. A temporary foundation for the home is set up and the log shell is handcrafted on our building site by experienced professional log builders. The log work incorporates all log walls, log loft support beams, log roof support system, (posts, purlins, ridge poles and log trusses if required).
~Log roof support system constructed with logs that are 10% larger than the logs used in the walls to ensure maximum structural support.
~Door and window openings prepared for easy installation of doors and windows.
~Slots cut to accept frame partition walls. Every log home has some interior frame partition walls or closet walls that must connect to the log work. The necessary slots to integrate these frame walls into the log walls are cut precisely to make the framer's work easier. Any decking in the loft or second story will also require these slots to accommodate the base of the framed walls. All of these will be prepared as part of the log package.
~The base round of logs will be pre-drilled for electrical wiring as indicated on the plan.
~Expandable foam gasketing is included and installed between every round and in the corners throughout the log work ensuring an air-tight home.
~Log ends will be cut and trimmed in the style you request.
We arrange shipping and reassembly for every project but these costs vary according to the location of your home site. Shipping and reassembly prices will be determined separately for each individual project. We will discuss all this with you and provide clear prices to help you stay on budget as you plan your new log home.
Why do you build only the log parts of the home?
In our experience, to build the best home it's important to work with trades and craftsmen who are experts in their field. With our access to high quality timber and skilled hand-crafters, we are the log experts. Your general contractor is the expert on factors in your area including building codes, geological issues, and weather patterns. He or she can will have the knowledge to select the most talented local sub-trades and the most reputable local suppliers. Your contractor's network is a great advantage to you.
As a superior log provider we are ready to be part of a team that includes local professionals to ensure your home has the best man (or woman) for every part of the job, bringing their particular expertise, skills and years of experience to your project. With each tradesman standing behind the quality of his work, you can be assured of the highest quality home.
Since not every general contractor has previous experience with log homes, we are accustomed to providing free ongoing instruction and technical advice as the home is completed and beyond. Building a log home brings people together in an exciting adventure that ends in an eye-catching landmark construction: your new home!
How is this cost-effective?
1. Completing your custom log home with windows,  doors, lumber, plywood, etc. from a local supplier means you pay less in total shipping costs.
2. You will have a greater selection of windows, doors, and roofing than you would find in  a "log kit",  allowing you to splurge where it's important to you and economize where you want.
3. Involving local businesses in your project helps create a solid community network and ensures that you will get competitive prices and prompt attention when you need it. Relationships you build during the construction of your log home will benefit you in many ways over the years.
4. A local building supply store will often take back unused material for credit that you can use for other necessities.
5. You get the knowledge and experience of a handcrafted log home company that has been building  for 40 years + the advantages of supporting various local trades.  
A family business for over 40 years building custom handcrafted log homes throughout Canada, Japan, and the United States (including Hawaii),  North American Log Crafters can help you become the next happy owner of a custom log dream home.
SEE BUILDING PROCESS SEE PLAN IDEAS SEE PHOTOS Contact Us
---
Classic Log Homes and Cabins