Building your Custom Log Home Design in Alberta
Rustic luxury…a handcrafted log home delivers traditional log cabin charm with the all the sophisticated extras you need.  The natural choice for an Alberta family home, a log house makes a strong statement in the best Edmonton neighbourhoods or on any acreage in Alberta. Choosing a log home built with premium large scale timber insulated against winter weather this is an investment you'll appreciate day after day!
"We just wanted to drop you a note and tell you how much we enjoy our house.  It has been seven years and the logs are still as tight as they were on day one. Everybody who comes to visit us is impressed not only with the size of the logs, but also the overall craftsmanship!           ~Bill and Jean Kelley
Building dream log homes for 40 years, North American Log Crafters is a trusted log home company serving Edmonton, Alberta and area   Contact us now!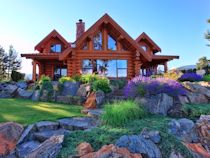 Pioneers in the handcrafted log home industry since the 1972, this family business has built on its log cabin foundation, becoming the trusted choice for people who demand excellence. Each log is carefully selected, hand-peeled and handcrafted  North American Log Crafters builds with only the highest grade timber and the most talented craftsmen: there are no shortcuts.From log cabin lake houses to log rancher retirement residences and rustic log retreats: whatever you're building you can be confident that you'll receive the same personal attention that our celebrity log home clients enjoy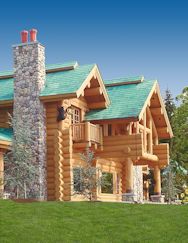 You are unique and your log home should be too– especially when it's going to last a few hundred years! With professional log home designers to draw your plans you'll avoid a cookie-cutter home and stand out from the crowd while the unsurpassed structural strength of Douglas Fir makes it a natural choice for long-lasting homes. Your log home will become an Alberta heritage home and a local landmark.
Call Brian Toll Free at 1-877-955-2485 or email us for more information today!
A modern log home is usually more "impressive" than "quaint", a status symbol rather than shelter from the elements, but log cabin charm comes in all sizes.  Is it time to enjoy the prestige of a log home that shows your country roots while it demonstrates your taste and style? Or have you decided that big isn't always better when it comes to the log cabin home of your dreams? Build the perfect log home for your lifestyle and budget.  With concerns about the economy,  many people in Edmonton are thinking of downsizing or getting back to basics. We've got log cabin ideas to help you simplify your life away from the stress of the city where genuine handcrafted quality helps you focus on what really matters.
For quick escapes, plan weekend getaways around mountain adventures or at the lake in BC  with a cozy log cabin as your back country base camp. Go off-road for the best hunting and fishing knowing you can park your ATV beside your log home away from home and relax beside your rock fireplace. You don't have to sacrifice comfort when you're getting close to nature if your log retreat offers luxuries like a hot tub on your deck. Go ahead and say you're roughing it!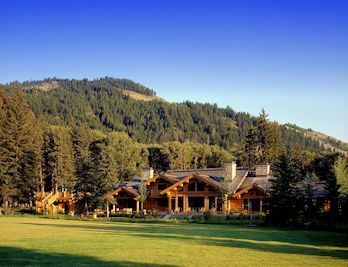 Sustainable and Natural,  Custom Log Homes and Cabins are popular in Edmonton, Alberta
The modern custom log home is constructed from renewable resources, energy efficient and built with your comfort in mind. With hundreds of log homes behind us, we are always evolving to be compliant with strict building codes, safety standards and the specific requirements of our clients. The richness of wood adds rustic character to your family home or a vacation home.  This is not just a place to live: a log home makes statement about traditions you value and craftsmanship you appreciate.  Contact us now!
Contact UsSEE BUILDING PROCESS SEE PLAN IDEAS
Call Toll Free: 877-955-2485 or 250-682-2485 click to email us for more information today!