Building a Canadian Log Home: how big is your log cabin dream?
Many people are deciding that it's the perfect time to build a log home or cabin! Log construction has come a long way since  providing basic shelter for the pioneer. Log homes are now often luxurious landmarks that still represent the strength and determination of early settlers who made this vast country their new home.  With open floor plans, high ceilings and soaring windows to frame lake and mountain views, a majestic log home retains the warmth and charm of its log-cabin roots while it reaches new heights as a status symbol.
 Should I buy or should I build?
As you search for  your perfect wilderness retreat, your summer cottage at the lake or or your hunting lodge, the question arises: should I be looking for a home for sale or should I consider building?
Location is key. First find a corner of the world that you love and want to return to again and again! When a log cabin is your dream home, choose a custom log design from top Canadian log home builder North American Log Crafters. You'll be sure of the quality of the logs and construction techniques so you can enjoy a fine log house that will last several hundred years.
When you're involved in the planning of your own home, you'll be confident in the quality from the foundation to the finish, and not find yourself facing costly renovations when you'd rather move in and enjoy a log cabin built specifically for you!
How much does it cost to build a log home?
The finished cost of a log home—any home—depends a lot on the plan you select and can vary widely according to your choice of cabinetry, countertops, flooring and fixtures. If you want an economical log cabin, choose a simple plan with interior framed walls and an uncomplicated roofline. The cost of the log work in a custom log home usually rises according to the complexity of the home plan (not just the size) because the number of labour-intensive log corners adds to the price.
When comparing the cost of a log home to a frame home, consider that a log wall takes the place of framing, insulation, sheathing, drywall, painting and siding…costs that add up quickly when building a conventional house.
Fair prices + outstanding craftsmanship = the best value in fine log homes
"If we had it all to do over tomorrow, there's no question North American Log Crafters would build our home. Brian Campbell and his crew are passionate about log building. Their attention to detail and craftsmanship are unsurpassed. And, more importantly, their willingness to be hands-on with the customer is very comforting. Our home is finished and it's an incredible work of art. Our home will be here for our grandchildren's grandchildren to enjoy…it is our legacy."

~Gail Stephens
Research shows that log home owners have carefully planned their home buying decision, educating themselves more thoroughly than the average home buyer about log homes and log construction techniques. More financially established, a custom log home client often plans a recreational home or a luxury log cabin retreat to enjoy the beauty of the outdoors AND the comfort of an amazing dream home.
You can trust a reputable log home builder to give you a quote based on plans rather than just "ballpark" a number and to use only top quality timber and experienced craftsmen to build your log home. Even a small log cabin can be an exquisite masterpiece when it's built with hand-peeled large scale logs by skilled professionals. The log work forms the building blocks of your investment: choosing your log provider carefully is the key to building a fine log home.  How you complete your log home will express your good taste and style!
If it's time to reward yourself with a large log dream home, work with a log home designer to create a unique home with complex architectural details, a dramatic roofline and eye-catching dramatic log trusses, columns, or carvings. Ask about versatile log post and beam hybrids, which allow impressive circular rooms, bays and even turrets. A large rural property invites a generously proportioned rancher, with a coordinating log garage, log guest house or log barns.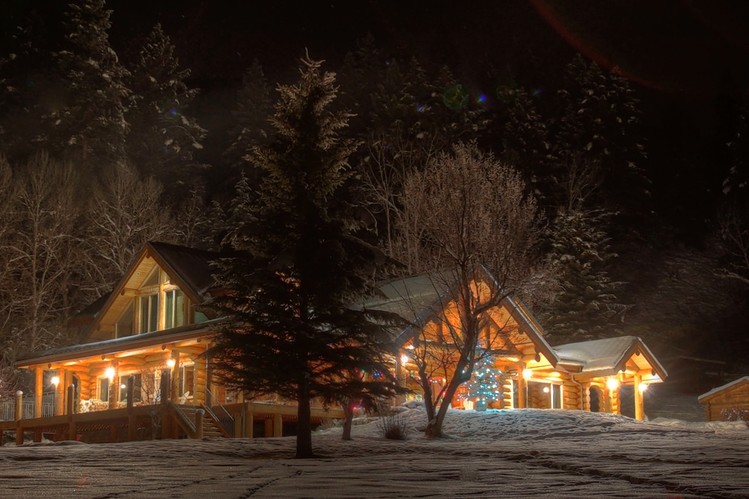 Choosing a reliable log home company like North American Log Crafters, with proven log homes built for professional athletes in Georgia, media moguls in Newfoundland, ranchers in Ohio, and doctors in New Zealand, you'll feel confident that your log home is built to last!
Your custom log home lets you experience Canada exactly the way you want to, encouraging you to focus on your priorities while you work with a designer to create the perfect floor plan for your lifestyle. Lakeshore log home with a log cabin guest house for all your family and friends? Log boat house? Log garage?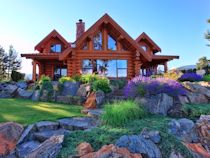 Such was the case for an Alberta businessman who was drawn to the beautiful Shuswap Lake with its warm water and endless shoreline. Choosing a prime waterfront lot in Scotch Creek, he was pleased to discover that the local log home builder was BC log home pioneer North American Log Crafters, legendary for its fine custom log homes like the log lodge on the Royal Antler Ranch which recently sold for $15 million. Working with a designer to customize a log home plan, the Alberta family was soon enjoying their own unique log home—and many guests—after sunny days boating on the lake.
Many Canadians plan to holiday at home where the Canadian dollar goes the farthest and our American neighbours are pleasantly surprised to find how much the strong US dollar can buy north of the border. It's the right time to rediscover your love of outdoor sports and relax in a slope side log chalet with ski-in, ski-out convenience! Imagine a luxury log home with a mountain views, the warmth of a log fireplace, hot tub, heated floors and storage for skis and snowboards. Like the North American Log Crafter "Bintliff" log home plan, originally built on a private ski hill, a big log cabin design makes the perfect alpine retreat where tightly joined log walls stay warm through cold winter nights.
What about resale value in a log home?
Any rural area within a few hours of a major North American city enjoys a strong housing market—and will undoubtedly remain popular as a weekend destination. Log home lovers make up a consistent portion of the people who buy luxury homes, people who appreciate quality construction and traditional building techniques.
Building a waterfront log cabin or a lake or mountain view log home ensures that you're investing in both incomparable  scenery and a great country getaway: the natural beauty of a log home with the Canadian wilderness built right into the walls.
Your spirit of adventure and creativity will be the driving force behind an investment that you'll enjoy for many years. When the time comes to sell your custom design will impress other log home enthusiasts who want the convenience of a turn-key luxury log home.
A prairie outdoorsman found exactly this when he was able to buy the perfect log cabin built from quality natural large logs, complete with log railings, dormer windows, and a cougar log carving crouched in a truss overhead.
Ideally located near a southern lake, this log home had easy back country access for ATVs, hunting and fishing. When he learned that North American Log Crafters were the expert log home builders responsible for the impressive construction of his new log cabin, he completed the recreational property with a log post and beam shop and garage, thoughtfully planned, attractive and practical.
Our log homes are built in Canada with top grade, large logs (typically the powerful Douglas Fir, prized for its density and structural strength or popular Western Red Cedar) which are hand-peeled to keep their natural shape and rugged character.
Skillfully hand-scribed for perfect fit, premium logs and meticulous craftsmanship ensure energy efficient, enduring log homes. From the smallest log cabins to magnificent log mansions, every North American Log Crafter home is built from top quality Canadian timber by experienced log builders.
Your log cabin dream is not just another project for us. Every client is important and receives the same attention and respect. Listening carefully to your log home wish-list, we're happy to answer your questions and explain how the best logs in Western Canada will become the walls of your new home. We're as proud of  your new log home as you are!
 Contact us to find more about Canadian built log homes!
Log HomesWhat's Included?View PortfolioContact Us
1-877-955-2485 or 1-250-682-2485