Timber makes the difference between a home you like and a home you love.
Everyone loves the commanding appearance and unique character that sets a timber frame house apart from the average home.
But there's much more to this traditional building method than its rugged good looks.More resistant to trauma from earthquake, wind uplift and snow load than light frame construction, choosing timber frame means that you're building a seriously long lasting home.
You can see the strength and quality every day. The supporting structure, instead of being hidden, can be observed and examined which encourages careful craftsmanship. A good timber framer builds art you can live in!
Remaining a popular building method since ancient times because of its strength, versatility and aesthetic appeal, a framework is created from heavy squared timbers (instead of smaller dimensional lumber) skillfully fitted together  with mortise and tenon joinery.  Standard framing completes the home. The great range of options available in timber home design give you endless design possibilities.
From starkly contemporary to traditional and rustic, timber frame lets you and your home make a bold statement.
Complex roof systems incorporating dynamic timber trusses or simple large scale beams demonstrate the raw power of natural materials– timber frame is an architectural workhorse adding real strength as well as design interest, texture and character.
 From the shape and size of the exposed timber elements to the degree of structural involvement, every timber home expresses the unique style and taste of its owner.
A video tour of a tastefully finished mountain timber home lets you feel the impact created by quality timber work from North American Log Crafters in partnership with local contractors.  Follow the link to experience the rough luxury of this incredible home and imagine the impact of timber in your new home! (Courtesy Sotheby's International Realty)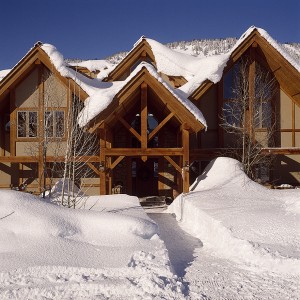 Offering only prime timbers, North American Log Crafters will partner with your builder to fabricate and install timber work of the highest quality.
Premium Douglas Fir timber custom milled on site
Traditional timber joinery by experienced craftsmen
Interior and Exterior timber components
Timber accents for frame homes
Equally at home in a mountain setting, beside a golf course, along a lake shore or attracting stares on a city street, timber frame creates drama in anything from a hunting lodge or a summer cabin to an urban loft or commercial building. Even applied timber accents can make a big difference in the character or curb appeal of a home.  If you're renovating, you'll love the striking effects of applied timber beams or trusses.
Find out more about premium quality timber frame for your new home!
---
More Photos of Timber Frame Construction