Looking for the perfect log home plan?  You probably won't find it.
"Custom Log Home" might sound expensive, but it could be a lot more affordable than building a house designed for someone else's life. Plan a log dream home for your lifestyle, your family and your budget!
You've found the perfect place to build a log home! Now you're looking at log home plans and researching log builders. Each story is unique, but you'll have a lot in common with other log home lovers!  Here's how it happened for one couple.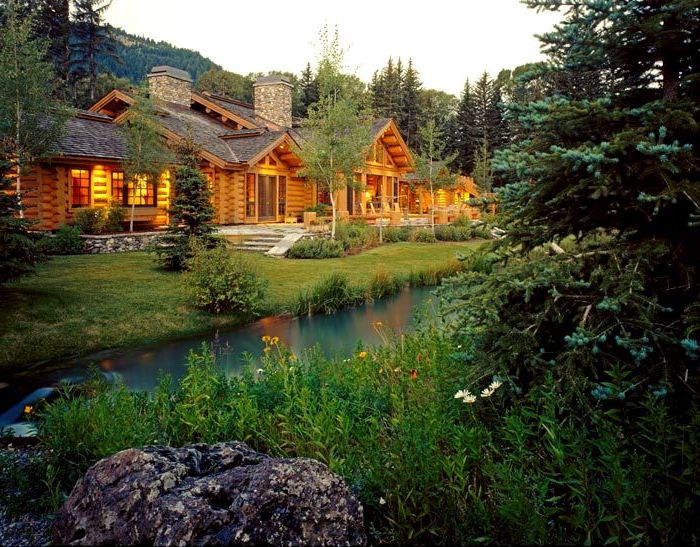 "If you're familiar with the work of North American Log Crafters,you'll understand why we chose them for top quality logs and great craftsmanship.  Next we needed a log home plan. We wanted a log house that made the most of our setting and our active lifestyle but, although we looked at many home plan ideas, nothing seemed exactly right.
A stock plan might work for you…but it might not
"There were plenty to look at. Log home websites offered plans, house plan websites presented thousands to sift through, and stacks of house plan books and magazines (Log Home Living, Country Home Plans, Farmhouse Favorites, Log Chalets, Traditional Home Plans, Award Winning Log Home Plans, etc) gave me more ideas than I ever thought possible. It was easy to get distracted.
"The reality of our own budget challenged me to narrow the searches to a certain number of square feet, but there were still hundreds to choose from. Sitting down with my husband and a stack of house plan contenders led to a growing discard pile. So many plans were close, but not quite right. Maybe some couples agree on everything as they begin planning a home, but it turned out we had some startlingly different tastes. We learned a lot about each other!
But the reason we couldn't find the right house plan no matter how many websites or books we looked through was actually simple.  These plans were designed for other people, for other locations.  A couple of empty-nesters on a remote view acreage might want something different than a family with school aged children building in the suburbs.
The solution? A custom log home.
"I began with coffee and graph paper, trying to transform plans we kind of liked into the perfect home plan for us and it all came together after we found a patient, understanding draftsman through North American Log Crafters. He asked me to send him our ideas.  The first email had numerous attachments including images of log home exteriors we liked, log home plans we kind of liked, my drawings on graph paper, photos of our land and view. In my message I listed features that were important to me and to my husband.
At first when I heard the phrase "custom log home" I pictured spectacular showpieces like we see on TV: outlandish, outrageously expensive, or at least out of our budget.
"A custom log house could be any of those things, of course, but it doesn't have to be.  A custom home is all about you and what makes you comfortable.  For us a "custom home" meant:
~being able to choose the size and style we wanted
~space thoughtfully organized for how we live everyday and for when friends and family stay
~open living, dining and kitchen area
 ~big windows to frame a lakeview and for watching wildlife 
~covered front porch for summer shade 
~high ceilings to make the bright rooms feel unusually spacious
~a fireplace to gather around
"I hear my husband saying,"I just love this house!" sometimes right when I'm thinking it myself. Over the years we've lived in a number of beautiful places and enjoyed many things about them, but this home feels like it was made especially for us…because it was!"
---
Your perfect log home plan will be individual, of course, but take note of things you love in the plans you look at, and make lists of what would make a home function perfectly for you and your family.  Print off a couple plans and draw in the changes you'd like to see. Send us any plan ideas that catch your interest! Get some graph paper and experiment.  Maybe you'll only want to make a few modifications to an existing plan, but you might want to start from scratch.  Whatever you choose, a talented log home designer can help you create a warm once-in-a-lifetime home!
Log HomesLog Home Plan IdeasContact Us
1-877-955-2485 or 1-250-682-2485