Time for your own log home getaway? Or maybe a log cabin guest house?
Where would you build this 2 bdr, 1.5 bath handcrafted log cabin luxury cottage with a roomy loft? Just under 900 sq ft with a 630 sq ft main floor, this Douglas Fir log cabin is everything you need for the perfect wilderness home base or lakeside cottage. Wake up in a fine quality log cabin on your next outdoor adventure or give family and friends the guest experience of their dreams!
The log house above is beautifully completed in Jasper, Alberta at Alpine Village Log Cabin Resort. Appreciate the 15″ mid-span diameter hand-peeled logs and superior craftsmanship found in executive custom log homes…all included in the perfect little log cabin for you and your family!
Douglas Fir Log Package for the Luxury Log Cabin $53,350 (CAD)
Ready for finishing, the log package is reassembled in it's new forest home. The finest quality powerful Douglas Fir logs prized for their great strength under snow load were chosen for this alpine location.  Log package price includes all log work only. What's included in a log package? Click Here Work with a general contractor of your choice and choose the best local trades to finish this log cabin exactly the way you'd like it. Advantages of our log package system: Click Here
A functional open living and kitchen area welcomes you at the end of a day outdoors or gives you plenty of space to get comfortable in bad weather. This might be better than camping!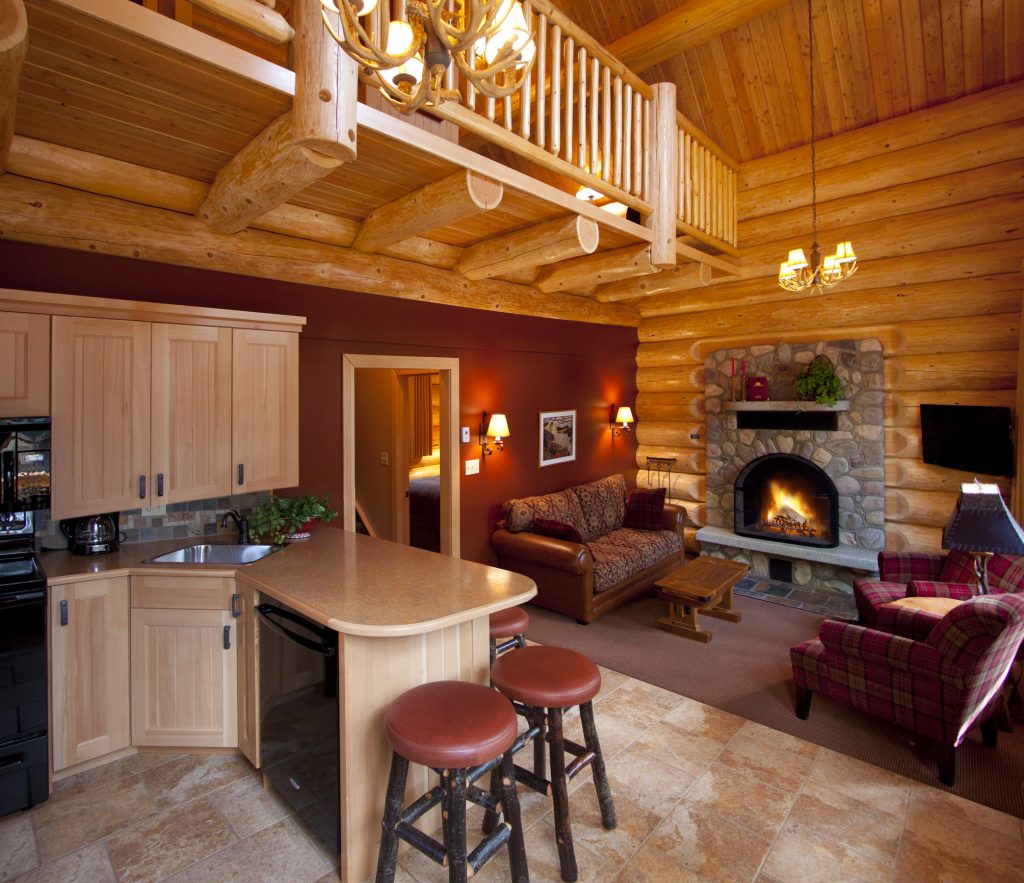 Complete this log cottage with a sun deck or front porch to enjoy the view or the stars at night! Imagine the space finished in your own unique style or ask about working with a draftsman for personalized modifications or a custom log home plan.
Looking for something different? See other log home plan ideas. Most of our log homes are custom designs, and the log cabin plans you'll find here are only an example of the many log cabin styles we build. Bring us your ideas and we'll begin planning the perfect log cabin for you!
 Luxury Log Cabin in the Woods Package Price Includes:
Individually selected hand-peeled, premium quality logs
Full length top grade Douglas Fir, 15″ mid-span diameter
Log package in Western Red Cedar will be approximately 15% more
Handcrafted full-scribe log construction by experienced professionals
Logs insulated with expandable foam gasketing at reassembly
Openings cut and prepared for windows and doors,  logs flattened for installation of  interior framed walls
Log roof support system & log floor beams for loft (10% larger than wall logs)
Bottom log rounds drilled for electrical wiring, log ends trimmed as you desire
Ongoing photo/video updates of the log construction

 Worldwide shipping and professional reassembly is specifically priced for your location.  
Teamwork: The  Advantages of Our Log Package SystemWhat's Included In a Log Package?
More About Log Homes PHOTO Portfolio BUILDING PROCESS Plan Ideas