The Room We Talk about least is the one we need the most!
Indoor plumbing. We take it for granted until we go without it for a while! Ever notice how much you appreciate the comfort and convenience of your bathroom after you get home from a camping trip? Unless you're an unusually hardcore pioneer log home lover and you're dedicated to a truly rustic existence, your devotion to the traditional flair and homey charm of your log cabin dream home doesn't include an outhouse.
Bath or shower? It seems like there are more fans of a shower these days, so a big shower often tops the must-have list of bathroom necessities. (After the toilet, of course!)
But devotees of the bathtub are a stubborn breed. If you love the utter relaxation of a private soak (and maybe a glass of wine and a book) you're not going to overlook the simple luxury and undeniable benefits of a comfortable bath tub. Even if you usually take a shower, there are times when nothing feels better than a bath…especially surrounded by the warm glow of log walls in your cozy log cabin home.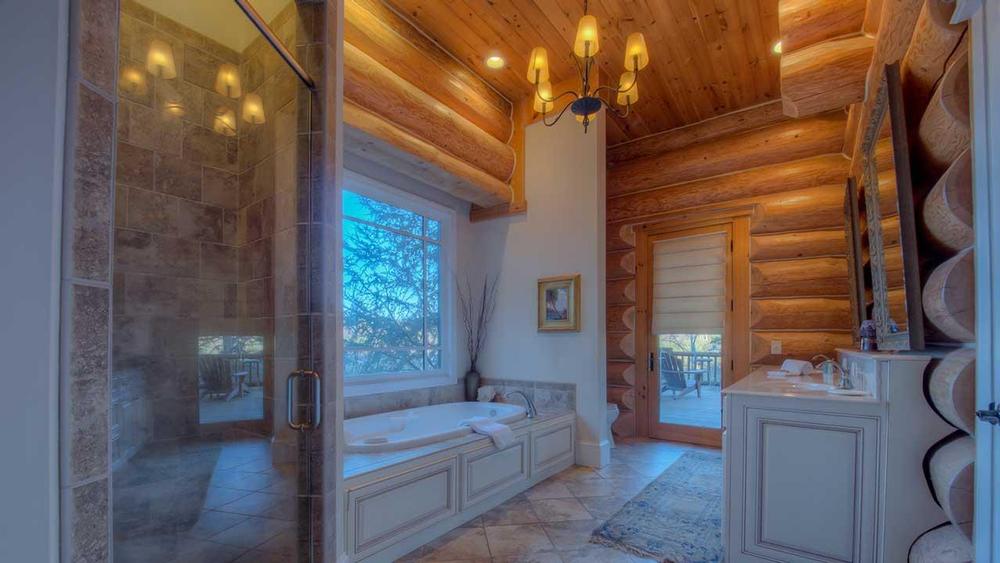 Windows in your log cabin bathroom? A do or a don't?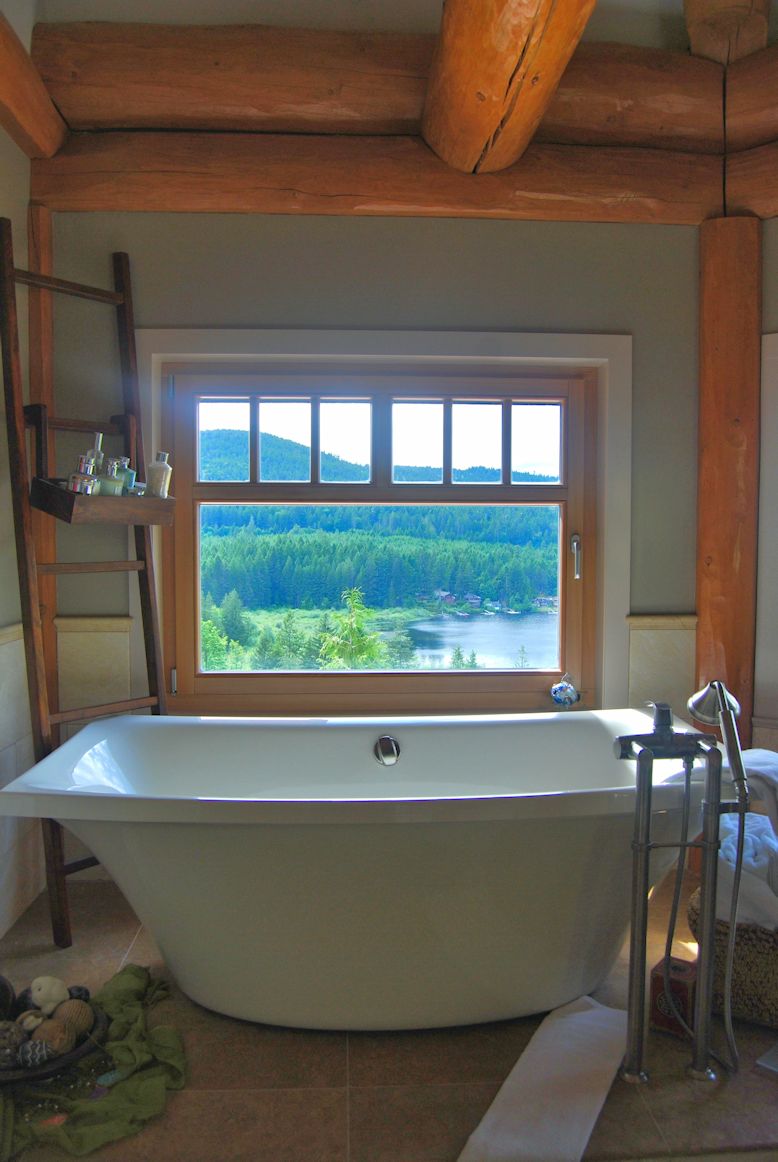 Depending on where you build your log home you might want to enjoy the view from your bathtub, your shower or both. It goes without saying that remote locations and large properties give you a better chance to do this and still enjoy your privacy. Hillside view lots sometimes let you enjoy the advantages of sweeping vistas without committing to a large acreage.
While waterfront log homes and lake cottages have some of the most spectacular views imaginable, they often share the beach front with close neighbours on each side. Clever custom log home design can help make the most of the view while preserving your privacy…especially important if you crave natural light in your bedroom and bathroom.
For some people, the bath is a quiet place to enjoy nature's beauty from a well-positioned window. For others, windows don't play a big role in bathrooms and privacy is a prime consideration.
With or without windows, ventilation is vital in a bathroom. Controlling moisture is always important, especially where wood is concerned. Windows help, but don't replace a good bath fan exhaust system. The protective finish applied to your log walls will keep them from absorbing unnecessary dampness, and thoughtful placement of backsplashes, tub surrounds and shower enclosures will ensure that water never has a chance to accumulate on your wood surfaces. A splash of water now and then won't hurt a thing…just wipe it dry and carry on with your log cabin life!
---