Step outside your log home to a natural extension of your living space!
Only part of log home living takes place inside your log house. Good weather draws you outside to enjoy sunny days and warm evenings on your front porch or in your back yard.  If you're lucky enough to live lakeside, you'll be on the beach or the dock. When darkness falls, you might find yourself beside a campfire…
One of the strongest reasons people are drawn to log cabins is the close relationship between a log building and its environment. Handcrafted log homes showcase this beautifully since (unlike machine cut homes) each log retains the natural shape of the individual tree.
If you love log homes you're most likely someone who appreciates the raw beauty of nature and you're planning your log home to take advantage of its setting. Carefully choose the placement of your windows to make the most of the view outside. Most importantly, plan the location of your porches, patios, decks and balconies so you'll feel as comfortable outside your log home as you do inside!
A few things to consider as you design your custom log home plan and select the location for your house:
Aspect/exposure: What direction will you face?  Will the sun be pleasantly warm or unbearably scorching at the times of day you'll want to be on your porch or balcony? Will you need roof cover for shade?
View: Make sure to overlook your favourite scenery from your outdoor living space! Do surrounding trees screen and shade effectively or will you  need to remove (or plant) a few for best effect?
Proximity of neighbours: How much privacy will you have from your patio hot tub?  You might need to adjust your floor plan so that the deck outside your master bedroom won't be on full display from the windows next door.
Outdoor living means something different to everyone.  Do you imagine a simple rocking chair or a rustic bench on the front porch of your log cabin? Or are you dreaming of  a luxury backyard retreat? You'll want to put some thought into your exterior living space at the design stage of your home to ensure many years of outdoor enjoyment!
---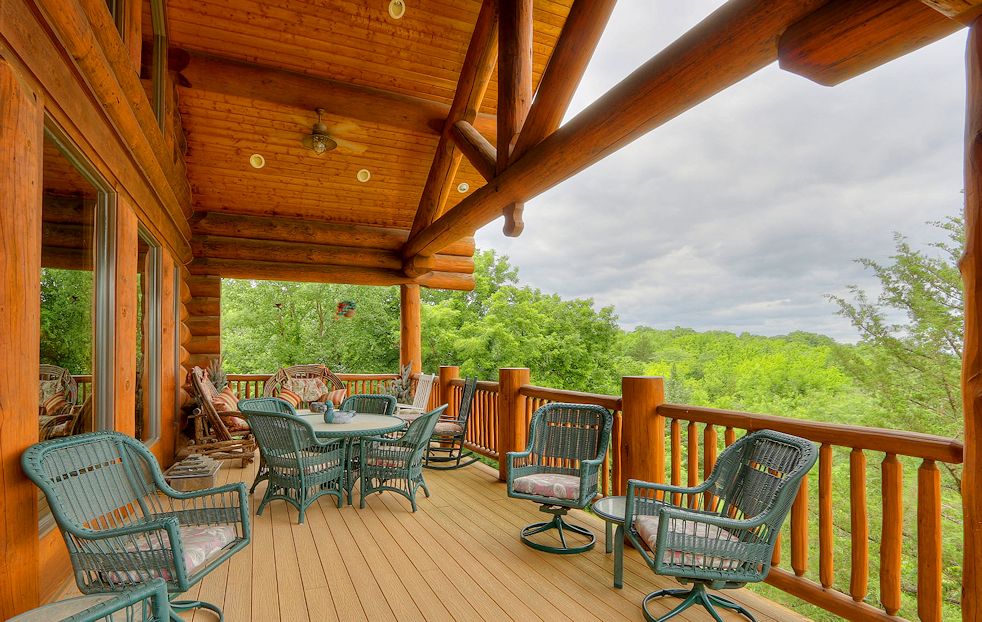 Covered porches, balconies or gazebos let you enjoy warm weather even in the rain. They're also perfect for storm-watching or listening to crickets on summer nights. Lean back against the warmth of your log walls as you relax on your front porch.
---
Uncovered sundecks or patios are perfect places to work on your tan on June afternoons or enjoy the warmth of the sunshine in early spring or autumn. During the winter, step into your steaming hot tub for an after-snowshoe soak while the snow falls all around.
---
An outdoor fireplace extends the season for fresh air living and draws everyone together to share laughter and stories!
Coffee or cocktails are best served outside on sunny days but good things can come in small packages. Strategic seating makes the most of a corner with an amazing view!
---
Indoor-outdoor spaces like this sheltered attached gazebo are great for locations that receive a lot of precipitation. Don't let the rain keep you from enjoying the great outdoors!
---
An alcove offers shelter on three sides and overhead while an impressive outdoor fireplace might be the reason your living room barely gets used most of the year!
---
Take some time to imagine how you like to unwind.
Do you crave solitude to recharge your soul or would you rather share your down time connecting socially? Would you prefer time for yourself with a good book after a hectic week dealing with people or do you dream of filling your weekends with groups of friends and family? The answers to these questions will help you create meaningful outdoor spaces that enhance the quality of your life.
Log HomesWhat's Included?View PortfolioContact Us
1-877-955-2485 or 1-250-682-2485